Yingbin West Road, North District, Hantai Economic Development Zone, Hanzhong city, Shaanxi Province
No.6 Gaoxin Avenue, Chuangzhi Industrial Park, Hanzhong Economic and Technological Development Zone, Shaanxi Province
Scan the code to pay attention to the public number
Social responsibility
Concept of social responsibility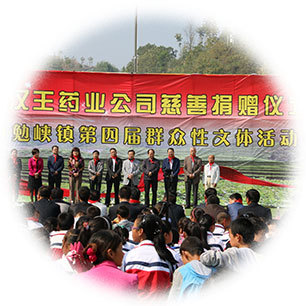 As a modern Chinese patent medicine manufacturing enterprise,Shaanxi Hanwang Pharmaceutical Co.,Ltd.has always adhered to the enterprise purpose of"refining good medicine and benefiting mankind",committed to the cause of human health and effectively guaranteed the safety and effectiveness of people's medication.While constantly seeking the stable and rapid development of enterprises,actively fulfill social responsibilities,devote themselves to social public welfare undertakings,and realize the harmonious development of enterprises and society.
The company adheres to the concept of integrity,innovation and return to the society,adheres to the development path of"quality first,innovation and development,scientific management and casting quality",practices the core values of"integrity,innovation and excellence",focuses on strategy,lean management,integrity and innovation,inherits and develops traditional Chinese medicine,and constantly pursues to create greater economic benefits and give back to the society.
The company adheres to the principle of"people-oriented"and builds a"people-oriented management"system to promote the harmonious development of enterprises and employees,respect the dominant position of employees,safeguard the legitimate rights and interests of employees,vigorously advocate humanistic care,fully mobilize the vitality of employees,stimulate potential,gather wisdom,promote the common development of employees and enterprises,and realize joint construction and sharing.
The company adheres to the theme of ecological civilization and green manufacturing,establishes a new high-quality development model for modern traditional Chinese medicine production enterprises,strengthens energy conservation and emission reduction and environmental protection,practices the concept of green development,and goes all out to promote the green and high-quality development of the industry.

Public welfare undertakings
While making contributions to the national economy and society,the company actively performs social responsibilities,contributes to the society,serves the country,is committed to poverty alleviation,revitalizing rural areas,education,health,culture,sports,disaster relief,fighting epidemic and other social public welfare undertakings,and writes the love of the king of Han Dynasty with practical actions.
● the Charity Association of Shaanxi Federation of industry and Commerce established"Hanwang pharmaceutical concentric brilliance charity fund";
● actively participate in Poverty Alleviation Policies and carry out poverty alleviation donation activities in industry,employment,education,consumption and other aspects;
● respond to"ten thousand enterprises help ten thousand villages"and help rural construction;
● love poor students in remote areas and donate money to study for many years;
● donate money and materials to the disaster areas caused by earthquakes and floods,and tide over the difficulties with the people in the disaster areas;
● help schools in poor mountainous areas improve teaching facilities and environment;
● caring for veterans;
● go all out to fight against pneumonia caused by novel coronavirus;
● support sports and cultural undertakings.